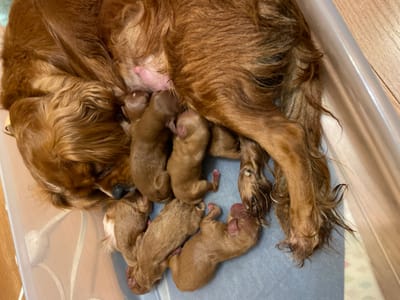 We wish to thank everyone who sent us enquires about Sasha and Kirby's cavapoo puppies. We are happy to say all six puppies have loving homes to go to.

We now are only accepting deposits for Maya and Kirby's spring litter. Our other female's deposit wait lists are full. However, from time to time we do receive cancelations or more puppies than expected may be born. Please continue to visit our website for availabilities.

Our Tika has mated with Kirby just last week. The puppies should be born near the middle of January. They will be ready to go their new homes near the middle of March. Just in time for spring. This will be Tika's final litter. She will live the rest of her days living with us in the lap of luxury. Her and Kirby have the smallest cavapoos of any of our dogs weighing between 6 and 10 pounds.

If you are interested in adopting one of our Cavapoo puppies please fill out our adoption application form. Once you click on send you will receive an automatic message that contains important information about our adoption process as well as our adoption fees.

We are looking for one guardian home for one of Tika's puppies. The lucky family will be receiving a puppy essentially for free. The family needs to live in or very near to nanaimo. They will be receiving a female puppy that is the pick of the litter and will be genetically tested. Please contact us for more information.

We are here to provide healthy well socialized puppies to loving families searching for that perfect puppy.


BEWARE OF SCAMMERS!
If it sounds too good to be true, it probably is.